Most of the bloggers on blogger.com start their journey with blogspot domain (example.blogspot.com). As they move further they purchase a custom domain and park it on blogger.com.
But very few bloggers understand about their domain registrar of custom domain. It is crucial to have a knowledge and access to your domain registrar as it might be needed while moving to WordPress, change in DNS configuration or changing privacy settings.
Here are the simple steps to access that
After purchasing domain from blogger.com, you receive one email with the subject Google Apps — Domain registration confirmation.
Click on the link within an email which redirect you to your Google Apps account. Click on the top menu option 'Domain Settings', where you will find your blogger blog domain access (See the screen shot below).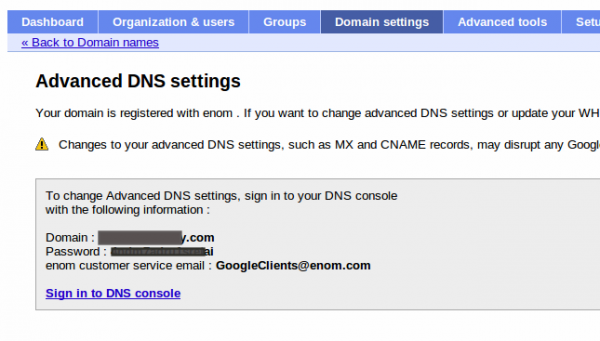 Click on 'Sign in to DNS console' link and you will be redirected towards enom account, please fill in log-in credentials and you can now access your domain registrar details there. 🙂