rtMoto is a free WordPress theme built as an alternative for Blogger.com's Mr. Moto theme.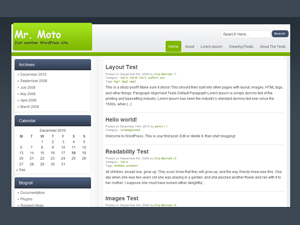 This theme support WordPress features which includes:
Custom Menu
Post Thumbnails
Microformats
Threaded Comments
One Sidebar on Right
Sticky Post
rtMoto is compatible with WordPress 3.0 and onwards.
Important Note:
Thumbnail generation may fail if you are using a cheap webhosting and your blog contains very large images.
In that case, you can try increasing PHP-memory by following steps here.
Credits:
This theme is mainly developed by Manish Songarikar & Pradeep Sonawane from rtCamp.
We also thank Philip Hofer for spending hours to make our theme compliant with WordPress.org standards. 🙂