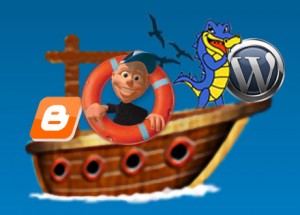 Many of you took advantage of our Black Friday deal. At the same time, some of you has complained that we didn't inform anyone in advance enough, so even you wanted to take advantage of it, you missed it!
Well, its time to leave regrets behind as we are hear with another awesome deal, this time for Cyber Monday.
The "Cyber Monday" Deal
You will get webhosting at 50% discounted rates from HostGator, our webhosting partner.
If you buy hosting through our affiliate link, you will get our Blogger to WordPress migration for FREE, if your blog contains less than 1000 posts. If your blog has more than 1000 posts, you will get $50 discount on our service charges.
50% discount will be available on Monday only, for 24-hours windows in CST timezone. You can see timezone difference here.
How to get "Cyber Monday" Deal
Clean your browser cookies by following this guide by Google
Visit HostGator by clicking our affiliate link which is => http://rt.cx/hostgator
Select hosting plan of your choice and complete your purchase at HostGator.
After your purchase, we get automated email from HostGator which contains domain name you have used during your purchase.
Finally, we get in touch with you to finish your Blogger to WordPress migration as per your convenient timing.
Remember, to get 50% discount, you need to buy hosting from HostGator on Monday only.
Our FREE migration offer can be used anytime after your purchase. There is no time limit from us as long as your blog do not cross 1000 posts.
What if you miss this deal again?
Do you get to know about this deal late? Again!
We recommend you to subscribe to our blog through your favorite medium. That way, you will always get to know about our promos first!
For time being you can check our ongoing FREE migration promo. 🙂
Have any question?
Get in touch with us through any of your preferred medium! We always love to hear from you. 🙂
Link: http://rt.cx/hostgator