BlogSpot is one of the best free blogging platform but when it comes free there are many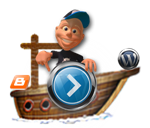 downside of it. One of them is control over your blog. BlogSpot can delete your blog anytime because they hold the possession of your blog. It happened many time in the past that many BlogSpot blogs have been deleted by mistake or someone reported blog as spam.
Though this post is a news post for bloggers who are using BlogSpot FTP publishing. BlogSpot FTP publishing will let you host images and files on your server. Recently as announced by BlogSpot that they will discontinue the support for FTP publishing blog and they need to shift to regular BlogSpot publishing.
Here is the snippet of official announcement :
Three years ago we launched Custom Domains to give users the simplicity of Blogger, the scalability of Google hosting, and the flexibility of hosting your blog at your own URL. Last year's post discussed the advantages of custom domains over FTP and addressed a number of reasons users have continued to use FTP publishing. (If you're interested in reading more about Custom Domains, our Help Center has a good overview of how to use them on your blog.) In evaluating the investment needed to continue supporting FTP, we have decided that we could not justify diverting further engineering resources away from building new features for all users.
For that reason, we are announcing today that we will no longer support FTP publishing in Blogger after March 26, 2010
This news comes as a surprise for BlogSpot bloggers using FTP publishing.
Are you a FTP publishing blogger? Do let us know what are you going to do to now? Move back to BlogSpot normal publishing or delete your blog?
Meanwhile if you looking to migrate your BlogSpot blog to WordPress you can also take advantage of our FTP BlogSpot to WordPress migration service.