This short tutorial will help you to setup your Blogger domain name with your Network Solutions account.
Follow the steps below:
Log in to your account at the Network Solutions Account Management.
After logging in, click on My domain names as seen below.
A list of all your domains will be seen, click on the Manage option next to your desired domain.
Next, your current settings of the domain will be displayed as shown below. To edit the DNS settings, click on Edit.
Click on Edit A records, and enter the values shown below.
Add the following IP addresses to the Numeric IP field.
216.239.32.21
216.239.34.21
216.239.36.21
216.239.38.21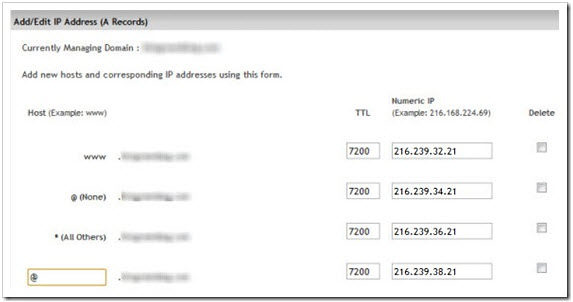 Now, click on 'Continue' to save the A records, and go back to the 'Domain Names' menu in the Account Manager. Select Edit CNAME records to edit the CNAME records of your domain.
Now edit the CNAME records with Alias as www and Other Host as ghs.google.com
The DNS settings of your Domain have now been re-configured for your Blogger.com domain. Note that, it might take time for the changes to take effect depending on the TTL (Time-To-Live) that you have specified. After that you can setup custom domain name in your Blogger.com blog URL.