Considering that we offer a service for moving blogs from Blogger (BlogSpot) to WordPress, I thought of writing about some pros and cons about both.
We started our own journey from a BlogSpot blog which we moved to self-hosted WordPress few years ago. Along the way, we grew as a wordpress services' company and used the lessons we learned to move our clients' blogs from Blogger to WordPress. We came up with this professional migration service. Yes, we've offered Blogger to WordPress migration service for quite some time.
We do not think BlogSpot should be completely avoided, but compared to WordPress (self-hosted), it is not the best blogging platform around. Below are some reasons I found while comparing Blogger and self-hosted WordPress.
As this subject has been debated many times, I decided not to reinvent the wheel by getting into technical aspects. My goal while writing this, is to compare both platforms from an end-user's perspective, for someone who may never be interested in checking out code!
New to blogging
So you are new to blogging and confused about starting a blog on BlogSpot or WordPress. It really depends on answer to one simple questions. The question is "Why are you blogging?"
If you are writing about your favorite things in life and basically creating a blog meant to be shared with family and friends, then using Blogger makes sense.
If you are new to blogging but interested in bringing your professional experience onto your blog, then a professional setup with a self-hosted WordPress would be a better idea.
Simplicity in features
Simplicity is very important for any blogger, especially for a newbie. You want to spend more time in writing than actually tweaking your blog, in all probability. Right?
If you are using Blogger.com then the features are simple to use because there are few of them as compared to WordPress. Blogger.com is very easy to use. Good for someone to start-off blogging asap.
WordPress provides more options out of the box. This means, it may take slightly more time to take-off. I have been using WordPress for over a year and feel that simplicity is not the exclusive domain of BlogSpot. Once you start using WordPress, you will find its interface extremely simple.
(Image Credit: Fablegod.com)
Investing in a blog
If you are a student, then this one might be biggest issue for you. But if you really do some math and act bold, this small investment can lead to long-time returns for years to come!
BlogSpot is helpful when it comes to creating a blog which needs zero investment. The account is free and you can start using it to publish your content which is basically a by product of something you are an expert at. The fact creating a blogspot blog requires zero investment does make it attractive.
WordPress is a free platform since you can install the WordPress software free on your server that hosts your site. But the problem is you have to register a domain and buy space from some hosting service. This means to run a self-hosted WordPress blog you will need some initial investment. But it's not too much if you see this calculation. Of course, great things in life don't come for free.
On a personal note, if you are expecting returns from your blog, its better to invest something early. No top blog in this world is running (read earning) with zero-investment! 😉
(Image Credit: Indianprofits.com)
From Blog to a Business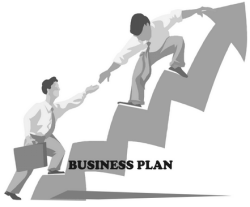 There are professionals like programmers, carpenters, writers and artists who have blogs. Their blogs may be initially an outlet for sharing information to them. But as your blog becomes famous, advertisers start purchasing ad-slots on your blog and if you are offering any service, you will see buyers lining up for your services. This is the time, when a blog takes that leap to become a business.
A Blogger.com blog is awesome when it comes to just writing content and getting it published on the Internet. But Blogger lacks many features and does not support deeper customization. A money-making business expects that from an underlying blogging platform.
WordPress has a plugin structure which makes it easy to add features on the go. Apart from that there is no limit to customization as code is running on your server. This means you can provide a better experience to your buyer which is critical for the success of any business blog.
(Image Credit: toostep.com)
Community and Support
Okay now you have a blog which makes money, gets advertisers and you need advanced options. You know a bit about WordPress and Blogger and basically are looking to tweak your website.
Blogger.com has its share of gadgets and a community which does create custom solutions. But because of technical limitation of Blogger.com platform, no matter how much bucks you are willing to spend, a developer can actually do very limited stuff with for Blogger.com blog.
With WordPress, the community is massive and you will be overwhelmed by free support, theme & plugins you will find. And when free-world meets an end, you will find thousands of freelancers and companies competing together to offer every solution you need at reasonable price.
Why move blogs from Blogger to WordPress?
All above points may help you when you are about to start a new blog. What if you have already started a blog on Blogger.com blog?
The journey of a blog from Blogger.com to a self hosted WordPress, is often representative of a blogger getting better at blogging. Its just like a sport. We play in the amateur or minor leagues in early days and then graduate to a professional major league team. Think of Blogger as a place where you learn the ropes of blogging and WordPress as the place to become a pro. 😉
This is the key reason many people decide to migrate from Blogger to WordPress. If you are a geek and/or have plenty of time to experiment, you can use this free tutorial on Blogger To WordPress migration.
For rest of us, we offer a unique Blogger To WordPress migration service. And here are reasons which make our service unique!